Written by Administrator
Tuesday, 21 February 2012 17:18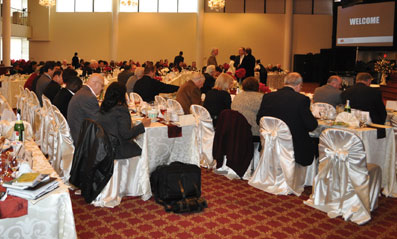 The last prayer Jesus Christ uttered before He was arrested and sent to the cross was that we would be united for the cause of sharing the good news that He is the Son of God.
Jesus prayed in John 17:20-21 "I do not pray for these alone, but also for those who will believe in Me through their word; that they all may be one, as You, Father, are in Me, and I in You; that they also may be one in Us, that the world may believe that You sent Me." When believers focus on preaching the Gospel, great things happen.
When we recognize that we are all made wonderfully different but with one cause, to lead people to an eternity with God, petty differences become less important as we fix our eyes on "the mark, the prize of the high calling in Christ Jesus". In 1929 the Canadian government began restricting Christian broadcasters from preaching the Gospel. The government rejected all applications for Christian radio
or television stations. Leaders from across the country banded together and finally in 1993 the Canadian Radiotelevision
Telecommunications Commission relented, allowing for a few stations, but under heavy restrictions.
After 82 years of government interference in the delivery of the Gospel over the air, Christian leaders have now come together to
work to preserve Christian Broadcasting on television, radio, and various multi-media platforms. On Thursday October 27th over 90 leaders assembled in Toronto at Canada Christian College for the founding of the Canadian Religious Broadcasting Association. It is exciting to know that this generation sees the necessity of ministries coming together with unity in Jesus Christ to establish the CRBA. Dr. Grant Jeffrey, Canada's most prolific author with over 7 million books in circulation, spoke of the urgency to preach the gospel in these, the last days. It was wonderful to see Dr. Frank Wright, NRB President, take time out of his busy schedule and fly to Canada to welcome the CRBA as a full affiliate. American
preachers came together in 1944 and formed the National Association of Broadcasters for the same expressed purpose. The result is that the gospel is preached in every corner of the United States on over 6,000 radio and television stations. It is the hope and prayer of the CRBA founders that a similar wave of freedom and opportunity will come over Canada for the sake that Christ's words will be true in Canada that "the world may believe that You sent Me". The Executive Board of Directors was formed with the National Council to follow. The new website
www.religousbroadcasters.ca is currently being developed. In 1929 the Canadian government began restricting Christian broadcasters Editorial
List of 90 Ministries Represented at the CRBA Founders' Meeting
All Peoples Church
700 Club of Canada
Amen FM Radio
B'nai Brith Canada
Benny Hinn Ministries of Canada
Bible Prophecy Revealed
Canada Christian College
Canada Family Action
Canadian Altar Net
Canadian Foursquare Church
Canadian Times
Canadian College of Christian Counsellors
Capital City Church
Christian Herald Christians
United For Israel
Church on the Rock
CJTW Faith FM 94.3
Cornerstone Church
Cornerstone Community Church
Crossroads Communications
CTS TV
Destiny & Dominion Word Ministries
Don Valley Community Church
El Roee Full Gospel Church
Elim Oasis Pentecostal Church
Evangel Temple Ministries
Evangelical Association
Evangelical Christian Magazine
Ezra Canada
Free Presbyterian Church
Frontier Publications
Full Gospel Business Men's Fellowship
Fuller Life Church Grace TV
Grant Jeffrey Ministries
Harvest Media Group
Hope FM
In Touch Ministries of Canada
Inflight Media
Inspire FM Christian Radio
Institute for Canadian Values
Harvest Call Ministries
International Harvesters for Christ
International Revival Church
Jack Van Impe Ministries
Jasper Ministries
Jesus Calls Canada
Jesus is Lord Church
John Hagee Ministries of Canada
Johnson Samuel Ministries
Joy1250
Jubilee Center for Christian Social Action
Key To Kingdom Church of Christ
Kingdom Covenant Ministries
Kingsway Community Centre
Life Radio 101.1 FM
Living Truth TV
Living Word Harvest Missionary Church
Macauly Kalu Ministries
McNabb Broadcasting
MGM Ministries
Ministry Networks
Oral Roberts Evangelical Association
Pillar of Fire Ministries
Power FM
Prayer Palace Ministries
Queensway Baptist
Quick Study Television
Rain Outreach Center
Ravi Zacharias International Ministries
Redeemer Christ Assembly
Reimer AD
Revival Time Tabernacle Ministries
Rhonda Lazerte Ministries
RW Schambach Ministries
Safe Haven Worship Centre
Shiloh International Church Canada
Ted Shuttlesworth Ministries Canada
The Christian Word
The Nation's Hour
Ticket Window
Toronto Christian Centre
Touching Toronto
U C B Canada
Under the Blood Productions
Victory International Ministries
Vision TV
Voice of Martyrs
Word TV
World Vision
Israel is Still Gods Clock - So What Time Is It?

It's Time to wake-up!
"And they will fall by the edge of the sword, and be led away captive into all nations. And Jerusalem will be trampled by Gentiles until the times of the Gentiles are fulfilled."
Luke 21:24

Prophecy, as we are accustomed to encountering it within Scripture, often seems somewhat mysterious and undefined. We may wonder what good reason there is for this, Read More
And in other news

The Lord is faithful to His promises and loving toward all He has made. Psalm 145:13
____________________________________