| | | | |
| --- | --- | --- | --- |
| Canadian Government Censors the Gospel | | | |
Monday, 26 December 2011 14:32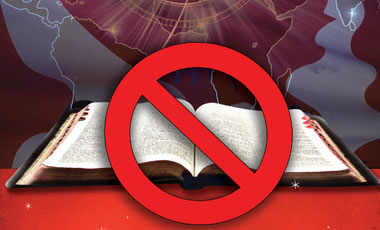 Canada's Constitution describes this nation as a "free and democratic society". Our Charter of Rights and Freedoms begins with the words "Whereas Canada is founded upon principles that recognize the supremacy of God and the rule of law:"
 We are "Guaranteed the fundamental freedom of conscience, religion, thought, belief, opinion and expression, including freedom of the press and other forms of communication". The Canadian Government is now violating these precious freedoms by censoring the Gospel.
A division of the government, the CRTC (Canadian Radio-television and Telecommunications Commission), recently forced Television program, Word TV, "permanently off" two television stations for opposing the radical agenda of teaching our children six genders and that they cannot have a "positive image" of themselves until they accept their inner gender. The Gospel compels us to act to stop this type of verbal sex abuse of our children. Jesus Christ commands us to care for the children. Jesus stated in Matthew 18:6 "But who so shall offend one of these little ones which believe in me, it were better for him that a millstone were hanged about his neck, and that he were drowned in the depth of the sea."
Last year we raised opposition to the Ontario Government's agenda. We went to air on Word TV and sent out a press release outlining the truth about Ontario's new hostile curriculum that was set in place to teach little children to question their gender. My statement read "it is unconscionable to teach , 8 year-old children same-sex marriage, sexual orientation and gender identity. It is even more absurd to subject 6th graders to instruction on the pleasures of masturbation, vaginal lubrication and 12 year-olds to lessons on oral sex and anal intercourse. Mr. McGuinty planned to teach our children sexually explicit material that he did not give to his own. We asked the Premier to stop this form of corruption.
Ontario's media jumped on the issue immediately and demanded a response from the Premier. I must have conducted over 100 interviews with CBC, CTV, National Post, Toronto Star, Globe and Mail and almost every media outlet in the province. As parents across the province read the material they were shocked. The website was bombarded as thousands signed the petition and were led to call the Premier.
The Premier heard from so many parents he decided to read the curriculum for himself and quickly withdrew the curriculum. . The Globe and Mail reported that "Mr. McGuinty pulled the plug on the new sex-ed curriculum last Thursday, after the Christian group led by evangelist Charles McVety and parents complained. The Premier read the chapter on sex ed for the first time that same day. " Just two days after presenting the truth, victory was achieved.
The Government has now retaliated with a vengeance, claiming that I "mis-characterized the curriculum". In fact Ontario's Premier ultimately agreed with me as he removed the curriculum. One person complained to the CRTC through the Canadian Broadcast Standards Council. The Council held secret hearings, never notifying us to the charge. We were not given due process. They tried us without hearing from us. We were not represented in any way. We didn't even know the trial was taking place. Basic internationally recognized judicial rights were abandoned in their rush to judgement Without notice, the CBSC sent out a press release to the media containing viscous, wrongful accusations against us on December 8th, 2010 followed by a 141 page report. I immediately called the telephone number on the press release and reached the Chairman of the Council, Ronald Cohen.
I asked him how he came to his outrageous conclusion that I was guilty of "Mis-characterizations" of What the Curriculum Teaches Children" I asked him if he had ever read the Curriculum. He admitted that neither he nor the Council has ever read the curriculum in question. The "Decision" also accused me of "Mis-characterizations of the Gay Pride Parades". They objected to "the labelling of the parades as "sex parades"". The fact is that sex parade is a legitimate, accurate description of a parade that displays every type of sex under the sun. They also did not like us speaking against the Toronto Tourism ad promoting Toronto "As Gay As It Gets" and "On any given day, hot boys and hot girls fill Church Street with" energy , "energy, passion and opportunity." Such ridiculous judgements could happen when someone is tried in secret for political reasons.
Political censorship is reserved for totalitarian regimes. The first thing a dictator like Hugo Chavez does is silence voices of opposition. Iran, Cuba, North Korea and other despotic regimes all move swiftly against free speech. Canada heavily criticizes China for human rights violations denying free speech while Canada practices heavy handed political censorship. I am not suggesting Canada is moving toward fascism, but toward total control of the education of our children. No country on earth confuses its children as young as eight-years-old with "gender identity" teaching.
The Council also wrongfully persecuted Word TV claiming that I said that homosexuals "prey on children".
I have never said that or anything similar to that but the truth does not matter to the "politburo".
Their only focus is to protect their agenda by silencing their critics. For years this Orwellian Council has attacked other Christian leaders such as James Dobson, John Hagee, Jack Van Impe, James Robison and many more. As an outspoken Canadian, they see me as a greater threat so they are going one step further trying to take me permanently off the air.
Unfortunately the council was successful at threatening CTS to take us off the air permanently.
2. Everyone has the following fundamental freedoms:
(a) freedom of conscience and religion; (b) freedom of thought, belief, opinion and expression, including freedom of the press and other media of communication;
Prime Minister Stephen Harper committed to uphold these basic rights when he was sworn into office. The actions of the CRTC, CBSC and CTS are unconstitutional.
The truth of God is the most powerful force on earth. Deuteronomy 32:30 says "one can chase a thousand, And two put ten thousand to flight" God has given us the truth. All we have to do is unite together in Jesus Christ, speak the truth, shout it from the housetops and see what God will do.
Israel is Still Gods Clock - So What Time Is It?

It's Time to wake-up!
"And they will fall by the edge of the sword, and be led away captive into all nations. And Jerusalem will be trampled by Gentiles until the times of the Gentiles are fulfilled."
Luke 21:24

Prophecy, as we are accustomed to encountering it within Scripture, often seems somewhat mysterious and undefined. We may wonder what good reason there is for this, Read More
And in other news

The Lord is faithful to His promises and loving toward all He has made. Psalm 145:13
____________________________________